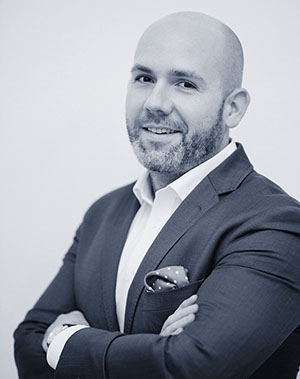 Piotr graduated from Jagiellonian University Faculty of Law and Administration. Member of Cracow Legal Counselor Bar. His vast experience as commercial lawyer has been gained during practice in renowned law firms and while managing his own law office. For the past years he has been a member of the Allerhand Institute research center and its Dispute Resolution section. He is fluent in English and German.
Specializations:
#RealEstate #CorporateLaw #ContractLaw #Litigation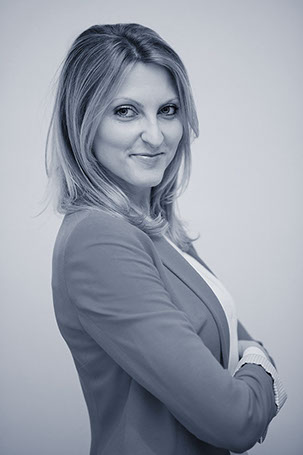 Jolanta is a member of Cracow Advocate Bar. She graduated from Jagiellonian University Faculty of Law and Administration, American Law Program organized by Jagiellonian University and Columbus School of Law of The Catholic University of America (JU-CUA American Law Program) and post-graduate Companies' Academy at the Warsaw School of Economics. She gained her proffesional experience during practice in renowned law firms as well as managing her own law office. She is an experienced corporate trainer conducting numerous courses and workshops for business clients. She is fluent in English.
Specializations:
#CorporateLaw #ContractLaw #Litigation #LaborLaw #UnfairCompetitionLaw
#CompetitionAndConsumerProtectionLaw #IntellectualPropertyLaw
We provide legal advisory on all real estate matters, including sale and purchase of real estate or real estate commercialization. Particularly, we advice on choosing the right strategy of any transaction regarding real estate and provide their full legal support. We draw up, comment, adjust, negotiate and supervise performance of any agreements regarding real estate. We analyze and evaluate real estate legal status (due diligence). Due to our significant experience in providing legal services to commercial developers, we are happy to draw up, negotiate, issue opinion and advise on any issues regarding lease or rent agreements.
We offer full legal support for commercial entities. We advise our Clients on the form of activity which would best match their needs and provide its full and on-going support. We represent our Clients in registration proceedings, and disputes regarding companies, stocks or shares, shareholders'/partners' agreements or agreements between companies and shareholders/partners. We provide full support of winding-up proceedings. We also represent our Clients in any disputes arising from holding position of any companies' body members.
We represent our Clients in any civil court proceedings, court-administrative proceedings or ADR proceedings. We assess litigation risks and optimize Clients' operations considering further litigation strategies. When possible, we encourage our Clients to perform effective dispute resolution not involving the court. In such cases we negotiate with other parties and represent Clients in ADR proceedings.
We support our Clients during concluding, drawing up, commenting, negotiating or performing any contracts. We represent Clients any disputes arising from contracts. We help our Clients to evaluate their legal position resulting from concluded or projected contracts.
We advise our Clients and represent them during administrative proceedings regarding their activities or assets. We also support Clients in dispute cases during administrative or court-administrative proceedings.
We provide our Clients with legal support in their freight forwarding or transporter businesses. We help them solving disputes and pursue claims arising from freight forwarding or transportation agreements.
We render complex legal services to any entity involved in construction/investment project (investors, contractors, designers, etc.). We draft, negotiate, comment and advise during performing construction or design works agreements (including contracts based on FIDIC), loan and facility agreements, etc. We represent our Clients during proceedings regarding construction or investment projects.
We advise our Clients during employment disputes and collective bargaining agreements. We draw up general employment rules and agreement drafts. In court disputes we represent both the employers and the employees. We offer full legal support to temporary work agencies taking into consideration their international specificity, when necessary.
Personal Data Protection Law
Competition & Consumer Protection Law
We provide complex legal support and implementation for data protection solutions. We prepare indispensable documentation and support the Client in practical aspects of personal data protection. We represent Clients in proceedings towards Inspector General for Personal Data Protection and administrative courts.
We advise our Clients on planned actions considering their compliance with competition or consumer protection regulations. We represent our Clients in proceedings towards the President of the Office of Competition and Consumer Protection and the Competition and Consumer Protection Court.
Intellectual Property Law
We advise our Clients on any issues regarding unfair competition, including protection against unfair competition acts. We provide our Clients with opinions regarding unfair competition, negotiate and represent them in disputes in court or before court actions are taken. We analyze market practice breaches and provide tailored solutions for our Clients.
We offer legal support regarding new technologies, intellectual property, copyright and related rights, as well as patent and trademark protection. We represent our Clients in negotiations and disputes regarding copyright or trademark breaches. We support IT, e-commerce and publishing companies considering the specificity of their business activity. We render full support during negotiation, implementation and performance of license and copyright agreements.
We provide complex support regarding insolvency and bankruptcy. We advise on choosing and setting encumbrances in case of insolvency. We draw up bankruptcy motions and represent Clients during bankruptcy proceedings and towards appropriate bodies (both on debtor and creditor side). We represent our Clients in claim notification proceedings and in business activity ban proceedings. We advise on preparing and conducting the restructuring processes.
In order to match our Clients' needs, we provide trainings and conferences addressed particularly to managers, HR, sales and management.
The scope of the trainings is tailored to Client needs and specificity. To maximize the benefits arising from our events we take into consideration practical matters of Clients' businesses.
We are involved both in closed and open trainings and we cooperate in this regard with renowned training companies offering vast scope of business courses.
Our office is located in the Old Podgórze district of Cracow and is very well communicated – the Korona tram stop is just approx. 100 m away. You can park easily in the parking garage in from of our office or in the streets.
Cluster Office
ul. Zamoyskiego 24
30-523 Cracow
We encourage you to contact the Law Office in any preferable way, including the form below: